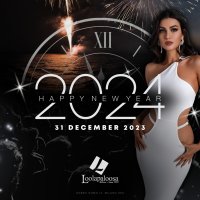 Trancoso White Party

Italiano:
La notte di Capodanno a Milano prende vita con un evento memorabile al Loolapaloosa, un locale dove pulsa la cultura brasiliana. Quest'anno, ci lasciamo avvolgere dall'incanto del "Trancoso White Party", il festeggiamento brasiliano più rinomato, imbevuto di spirito Hippie Chic. L'atmosfera si immerge nel bianco, simbolo di pace e rinnovamento, per salutare l'anno nuovo in un'aura di speranza e armonia.
Entrando nel Loolapaloosa, sarete accolti da un ambiente trasformato, dove ogni dettaglio irradia energia pura. Le decorazioni floreali ricreano la vitalità e la rinascita, simboli di una fede in un mondo migliore. Il bianco regna sovrano, creando un'atmosfera unificatrice e surreale.
Ma il cuore dell'evento è l'Apericena Internazionale, un'esperienza gastronomica che va oltre il semplice aperitivo. Un'ampia selezione di piatti internazionali con un tocco brasiliano delizierà i vostri palati, mentre la formula open wine, inclusa nel prezzo, vi permetterà di gustare vini squisiti senza limiti. Un viaggio culinario che celebra la diversità e la ricchezza dei sapori mondiali.
La musica, anima della serata, è un mix vibrante di ritmi brasiliani e internazionali. DJ esperti accompagneranno la festa con melodie che invitano a danzare e festeggiare, mentre ogni passo di danza diventa un augurio per un nuovo anno di gioia e successi.
Preparatevi per un Capodanno indimenticabile al Loolapaloosa, dove ogni momento è un ricordo da custodire e ogni sorriso un augurio per un anno splendido.
ENGLISH:
New Year's Eve in Milan comes alive with a memorable event at Loolapaloosa, a venue pulsating with Brazilian culture. This year, we're wrapped in the charm of the "Trancoso White Party," Brazil's most famous celebration, infused with a Hippie Chic spirit. The atmosphere is steeped in white, symbolizing peace and renewal, to greet the new year in an aura of hope and harmony.
Entering Loolapaloosa, you will be greeted by a transformed environment, where every detail radiates pure energy. The floral decorations recreate vitality and rebirth, symbols of faith in a better world. White reigns supreme, creating a unifying and surreal atmosphere.
But the highlight of the event is the International Apericena, a culinary experience that goes beyond a simple aperitif. A wide selection of international dishes with a Brazilian twist will delight your palate, while the open wine formula, included in the price, will allow you to enjoy exquisite wines without limit. A culinary journey that celebrates the diversity and richness of global flavors.
The music, the soul of the evening, is a vibrant mix of Brazilian and international rhythms. Skilled DJs will accompany the party with melodies that invite you to dance and celebrate, while every dance step becomes a wish for a new year of joy and success.
Prepare for an unforgettable New Year's Eve at Loolapaloosa, where every moment is a memory to treasure and every smile a wish for a splendid year.
Português:
A noite de Ano Novo em Milão ganha vida com um evento memorável no Loolapaloosa, um local onde pulsa a cultura brasileira. Este ano, somos envolvidos pelo charme do "Trancoso White Party", a celebração mais famosa do Brasil, impregnada de espírito Hippie Chic. A atmosfera é imersa em branco, simbolizando paz e renovação, para saudar o ano novo em uma aura de esperança e harmonia.
Entrando no Loolapaloosa, você será recebido por um ambiente transformado, onde cada detalhe irradia energia pura. As decorações florais recriam vitalidade e renascimento, símbolos de fé em um mundo melhor. O branco reina supremo, criando uma atmosfera unificadora e surreal.
Mas o destaque do evento é o Apericena Internacional, uma experiência culinária que vai além de um simples aperitivo. Uma ampla seleção de pratos internacionais com um toque brasileiro deleitará seu paladar, enquanto a fórmula open wine, incluída no preço, permitirá que você desfrute de vinhos requintados sem limites. Uma jornada culinária que celebra a diversidade e riqueza dos sabores globais.
A música, a alma da noite, é uma mistura vibrante de ritmos brasileiros e internacionais. DJs habilidosos acompanharão a festa com melodias que convidam a dançar e celebrar, enquanto cada passo de dança se torna um desejo para um novo ano de alegria e sucesso.
Prepare-se para uma noite de Ano Novo inesquecível no Loolapaloosa, onde cada momento é uma memória para guardar e cada sorriso um desejo para um ano esplêndido.